Baingan Bhartha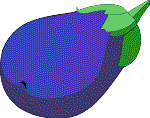 Ingredients

Big Eggplant      1 No
Cumin Seeds       1 tsp
mustard Seeds     1 tsp
hing              1 tsp
tumeric           1/2 tsp
salt              to taste 
Ginger            1'inch piece
Garlic            optional
Onions            1 no Chopped
Tomatoes          2 nos Chopped
Chilli Powder     1 tsp
Dhania powder     2 tsp
Garam masala      1 tsp
Coriander leaves  For Garnishing           


Method:

Pre-heat the Oven to 350 'f  .
Apply a little oil on the Eggplant & cook it the oven for about 45 min to an hour.
Take it out & peel the skin. the skin will come off easily.
For those who prefer less spicy ,take out the seeds & discard them .Chop the eggplant finely.
Heat a pan with little oil , season with mustard & cumin seeds.
Add Chopped onion & fry till translucent.add ginger ,garlic & tomatoes.
along with the salt,powders & fry nicely.
Finally add the chopped Eggplant & mix everything.
let it cook for a couple of minutes.
Garnish with Coriander before serving with any  breads of your choice.