Mushroom Masala
Ingredients: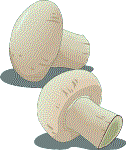 1 Large Yellow Onion Chopped
     2 Medium Sized Tomatoes
    10-15 Button Mushrooms
     1 Small piece Ginger & Garlic
     1 piece each Clove,cinnamon & cardomon 
     1 tsp Chilli Powder
     Salt Acc to taste
     1 tsp Oil
     Cilantro for garnishing 
     1 Cup water  

Method:
    
     Blend to a fine paste Onion.tomatoes,ginger,garlic & spices.
     In a pan take a spoon of oil & fry the paste for a few minutes.
     Add salt & chilli powder, Mushrooms and water.
     Cover & let it cook for 4-5 minutes.
     Garnish with cilantro before serving with Tortillas or Pittas.