Poached Pears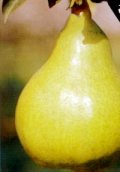 Ingredients:  

Bartlett or other green pear,  4 Nos
Orange juice
stick cinnamon                 1 No.

Method :  

Half & core the pears.Place cut side up,in bottom of a Dutch oven. 
Add enough orange juice to cover. Add cinnamon stick.
Bring to boil over medium heat, cover pan, reduce heat.
Simmer and cook 10 minutes, or until tender, yet still firm.

Remove pan from heat. Cool pears in liquid. 
Refrigerate in juice until chilled.