Tomatillo Salsa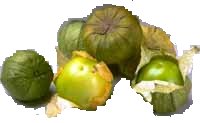 Ingredients:  

Tomatillo         12 Nos.
Red Peppers       1 No.
Jalepeno Chillies 2 Nos or to Taste minced.
Red Onion         1 No Chopped.
Salt              To Taste.
Fresh lemon Juice 1/4 Cup.     

Method :  

Dehusk Tomatillos & grill along with Bell Pepper.
Rest for few minutes & Peel the Pepper .
Coarse chop Tomatillos & Pepper.
Add everything to the mixing bowl .
Stir lemon juice & Season with salt .

Serve With Torttilla Chips.