Mango Rice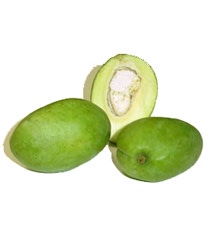 Ingredients:

Raw Green Mango          1 NO
Ginger chopped           1 piece 
Green chili peppers      2 Nos
Salt                     Acc to taste
Rice                     1 Cup

Seasoning  

Oil                      2 tsp
Mustard seeds            1 tsp
Curry leaves fresh       few (optional)     
Peanuts                  1/4 cup

Method:  

Cook the Rice so that each grains are separate & let it cool.

Peel & grate the Raw Mango.
In a pan heat the oil add the seasoning. Fry for a minute & then add
ginger, green chilies & shredded mangoes . keep stirring for a few 
minutes till the mango gets cooked. 
Take care that the mango does not loose its color.

Mix it with rice & serve hot or cold.