Mixed Greens East Indian Style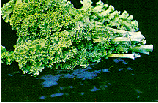 Ingredients:  

Whipping Cream        For Garnish.
Oil                   2 Tbsp.
Tomatoes with Juice   3 Cups.
Salt                  To Taste 
Ground Cumin,Cayenne  To Taste
Italian Parsley       1/4 Cup

Cilantro chopped      1/4 Cup.
Garlic clove minced   2 Nos.
Onion large Chopped   1 No.
Mixed Greens          3-4 Bunches
(Kale,colards,beets,mustard,chard)


Method :  

Wash & Coarsely chop the greens. 
Heat a pot with oil & saute onions & garlic till translucent.
Mix in herbs & spices. Briefly fry . Add Greens & salt.
Stir to mix greens & spices. Add chopped tomatoes with juice.
Cover , bring to boil & simmer for about 1/2 hour till done.
Keep stirring often since they scorch easily.
Garnish with Cream before serving.


Use a large pot with heavy bottom & tight lid .
Add the greens gradually if they all does not fit 
into the pot at once ,as it starts to shrink as they wilt .